Branded Custom Credit Card Terminal Rolls (200 Rolls)
Customise your thermal rolls with special offers, promotions, company logos or terms and conditions.

Direct, targeted and brand enhancing to increase awareness and maximise sales

We ensure quality printing so you make a real impact on your customers. Up to six colours with a single repeat image the whole length of each roll, every customer gets your message to come back buy again and who knows may pass this to friends and family. Its a great way to build business with a proven return on investment.

In the past only very large production runs of branded rolls could absorb the print set up costs. New technology means small runs can be manufactured so now all businesses can build their brands at an affordable cost.

This creates the ability for all businesses to use colour receipts as promotional tools

We can supply your finished rolls 10-15 days after artwork is signed off.

Simply place your order online and we will contact you to organise the artwork and get you started.

Compatible with all terminal by Ingenico, PAX, Spire Payments and Verifone and all suppliers such as World Pay, Cardnet, Barclays, Paymentsense etc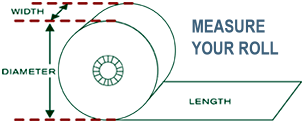 57mm width x 38mm diameter x 14.3m length
These are high quality 57 x 40 thermal rolls suitable for PDQ machines. Our thermal paper is manufactured in the UK and meet high industry standards. Buy today for the best price online.
These are high-quality rolls for the following terminals listed below:
Ingenico EFT930, Ingenico EFT 930B, Ingenico EFT 930G, Ingenico EFT 930P, Ingenico EFT 930W
Ingenico iCT220, Ingenico iCT 250
Ingenico iWL200, Ingenico iWL 220 Ingenico iWL221, Ingenico iWL222, Ingenico iWL250, Ingenico iWL251, Ingenico iWL252
Verifone VX670, Verifone VX520, Verifone VX680, Verifone 600
Able AP1200, Able AP824, Able AP824B, Able AP842, Able AP842B, Able AP860
Ascom EFT-20P
Axalto Magic 5100, Axalto Magic X1000, Axalto X100
Barclays ICT250
Bixolon SPP-R200, Bixolon SRP-R200
Cardsave 5100, Cardsave 7780 (Portable), Cardsave 7910 (Mobile), Cardsave iCT250
Citizen CMP-10/BT
Elite 710
Epson S2500THS
Extech S1500T, Extech S2500TEF, Extech S3500T
Gemalto Magic 1000, Gemalto Magic 5100
Magic 5100, Magic X1000
Matsu-Dionica Omera GSM
Natwest Streamline Ocius VX670
Sagem EFT-930G, Sagem Matsu EFT-930-SEM, Sagem Monetel EFT 930-B, Sagem Monetel EFT 930-G, Sagem Monetel EFT 930P, Sagem Monetel EFT 930S, Sagem Monetel EFT 930S-GM, Sagem Monetel EFT 930-W, Sagem R360
Samsung Bixolon SPP-R200, Samsung Bixolon SRP-R200
Schlumberger Magic 5100, Schlumberger Magic X1000
Streamline ICT250, Streamline VX670
Touchstar Touchpod 57mm.